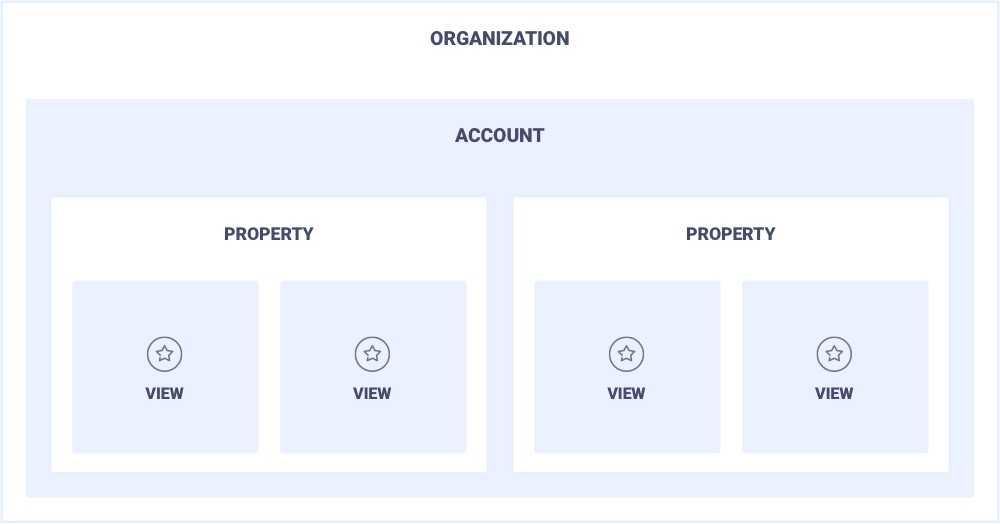 Organizations
Your Google Product Accounts and users for those accounts are collected together in organizations. An organization represents a company, and lets you access your company's product accounts (e.g., Analytics, Tag Manager, Optimize), and manage product users, permissions, and cross-product integrations.
You access your organizations through the Google Marketing Platform. Organizations are optional, though recommended for the benefits they provide.
Learn more about organizations
Accounts
An account is your access point for Analytics. One or more Analytics accounts can belong to an organization.
You need at least one account so you can have access to Analytics, and so you can identify the properties you want to track. How you manage the relationship between accounts and properties is up to you. You can use a one-to-one relationship of one account/one property, or you can use a one-to-many relationship of one account/many properties. You can have multiple Analytics accounts.
If you do not have an account, sign up for one through Google Marketing Platform.
Properties
A sub-component of an Analytics account that determines which data is organized and stored together. Any resource tagged with the same Property ID is collected and stored together. A single property can be used to track one website or mobile app, or be a roll-up of the data from multiple sites or mobile apps.
Views
A view or reporting view is a subset of an Analytics account property that can have its own unique configuration settings. You can create multiple views for a single property and configure each view to show a different subset of data for the property.